Flightseeing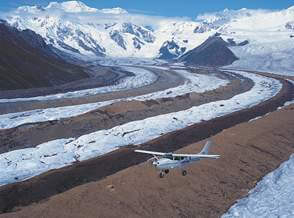 Soar over the mountain peaks and snow-covered glaciers of Wrangell St. Elias National Park  on an Alaska flightseeing trip. Wrangell-St Elias National Park has been called America's "mountain kingdom" and seeing it from a small airplane is the only way to get a true sense of the grandeur of this area. This is one of the most remote and mountainous areas of North America, and with few roads or trails into the park, the best (or only) way to see much of it is by air.
View snow-capped mountains and immense blue glacier ice flows during your flightseeing trip. Spot wildlife miles away from civilization. Get a birds-eye view of the immeasurable size of this remote Alaska wilderness, among the grandest collection of over 14,000 foot peaks in North America. Here the photography is the best in Alaska – if not the nation.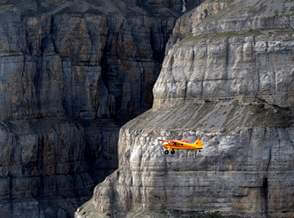 Wrangell Mountain Air 
Wrangell Mountain Air, based in McCarthy, AK, offers a variety of flightseeing trips ranging from 50 minutes up to 120 minutes, to give you a great opportunity to see this spectacular natural wonder. Flying is a way of life in Alaska, and your trip won't be complete without an Alaskan flightseeing tour.